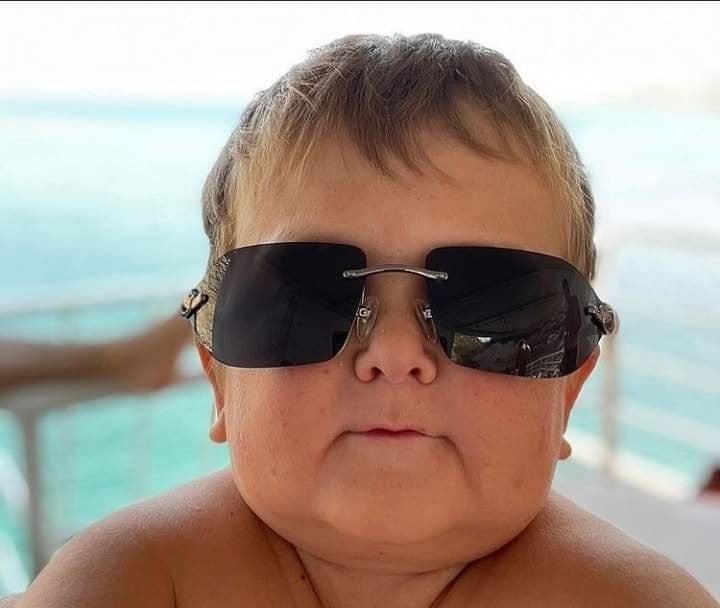 Hasbulla is a cute Russian internet celebrity who is famous for his pranks and spoofing videos on mixed martial arts (MMA). He has millions of followers on his Instagram and Tiktok accounts also. Check out below for more details of Hasbulla Wiki, Age, Height, Weight, Career, Controversy, Biography, Facts & More.
Hasbulla Wiki/Biography
Hasbulla was born in the year 2003 (Age: 18 years; As of 2021) in Makhachkala, Republic of Dagestan, Russia.
He was born to Muslim parents, and he has one sister.
Physical Appearance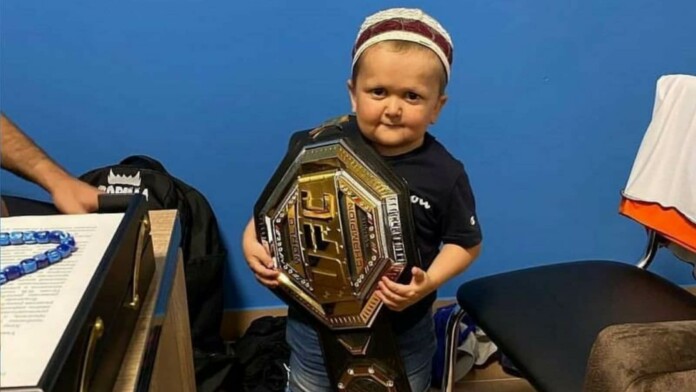 Height: 3′ 4″ inch
Weight: 22 kg
Hair Color: Golden Blonde
Eye Color: Brown
Career
Since his childhood, he was inclined toward sports and wanted to become an MMA fighter.
Due to his medical condition and disease, he could not make a career in MMA, so he started making spoof and prank videos on MMA fights and uploaded them on social media like his Tiktok account.
His created spoof videos went viral on Tiktok and he was famous instantly with that viral video and gained massive popularity on Tiktok and Instagram accounts.
He was famous for one of his spoof videos of MMA in which he mimicked the Russian mixed martial artist Khabib Nurmagomedov.
After the video went viral, Khabib Nurmagomedov met him and praised him for his spoof video. During an interview, while talking about Hasbulla, Nurmagomedov said,
He has to got to the US, all the big sports stars know him there, he's very popular. He has to move for a couple of years to the US and become maybe a billionaire. Minimum he can become a millionaire. They went to pay him some big money to get him into the ring. He's immensely popular abroad.
He challenged Tajikistan-born singer Abdu Rozik (who is also suffering from the same disease) for a mixed martial art fight in May 2021.
When their MMA match was announced, it created hype on social media like Tiktok and Instagram, but the Russian Dwarf Athletic Association (RDAA) did not approve it and termed it unethical and wrong. During an interview with him, when asked about the fight he said,
Abdu Rozik? He's a bum. A singer. This fight doesn't even make sense, fighting with a singer would be a shame for me.
Controversy
He was banned by Instagram for making threat videos to a woman in 2021. This woman had posted a video of Hasbulla's sister on Instagram without taking the permission of him or his family. In this threat video, he said,
I will not leave this girl alive until she apologises to the whole of Instagram, because she filmed a video of my sister and posted it for the entire Instagram.
Later, when the media asked him denied all reports and said that he took a break from social media.
Hasbulla Social Handles
Instagram: hasbulla_
Twitter: hasbullah
Facebook: hasbullafans 
Amazing Facts of Hasbulla
He has been nicknamed 'Mini Khabib' after his TikTok video went viral and the Russian legendary MMA fighter Khabib Nurmagomedov meet him.

He is also an animal lover and he has also a cute pet cat.
He is trained to ride an ATV and a helicopter.

He has been featured in the Money Kicks Youtube video in which he is doing many things and the prince of Dubai said he took my car on the youtube video title.
He follows a non-vegan diet.

He loves to travel all over the world, like Dubai, New York, and London.

He loves to do shopping.

He said, "The fight of the century – Everything is on the line" when his fight against Abdurozik was in 2021.

He is going to various beautiful destinations.
Read Other Biographies: